Our Menu is constantly changing and evolving to reflect the availability of ingredients, changing seasons and spirit. One constant we will assure is that we seek out the best of everything for our valued customers. We accomplish this commitment by purposefully limiting the amount of menu items offered. To make a reservation- 506-488-2998 ext 113
Happy Chinese New Year!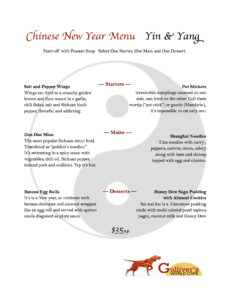 If you have any allergies or dietary preferences, please let us know at least 24 hours in advance so our chef can create a special dish for you.